Amis
de l'Orgue
Cavaillé-Coll
de Saint-Maurice de Bécon
Association of general interest
Artistic events
Following three seasons of concerts replete with unforgettable moments, the association is forced to suspend all events pending restoration: The condition of the instrument henceforth most alarming indeed, can no longer ensure the necessary minimum reliability for organizing them.
_______
We encourage you to leaf through the page devoted to our archives or the multimedia collection, to relive the events that have been landmarks in the history of the Bécon organ and the association.
Manifestations exceptionnelles
les 12 et 13 Octobre 2012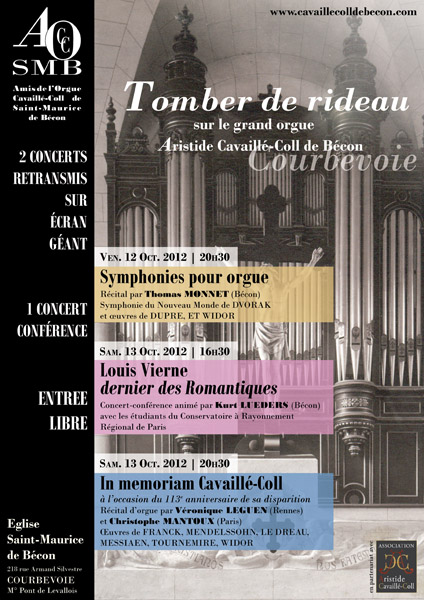 Venez entendre l'orgue de Saint-Maurice une dernière fois avant sa restauration.
© Amis de l'Orgue Cavaillé-Coll de Saint-Maurice de Bécon