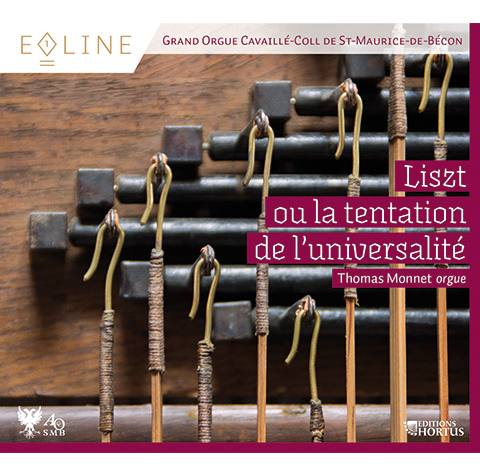 Duration: 72'05
15 €
Frais de port :
3 € jusqu'à 15 € d'achat
6 € jusqu'à 45 € d'achat
offerts au-delà de 45 € d'achat
Liszt ou la tentation de l'universalité
Thomas Monnet
Eoline, volume 1
Extolled at its first hearings in the shop of Aristide Cavaillé-Coll in 1864, the organ commissioned by the Marquis de Lambertye for his private chapel in Gerbéviller and standing since 1913 in the Church of Saint-Maurice-de-Bécon, spent a considerable span of its life in perfect anonymity. The restoration henceforth completed upon its hundred fiftieth anniversary enables us to rediscover an instrument that its instigator deemed 'beyond the norms and unique'. The richness of its tonal palette, the finesse of its timbres and its incredible dynamic range make it an ideal musical instrument: a faithful servant of the repertory and unending inspiration for the performer.
The thematic or monographic programmes of the collection 'Eoline' bear witness to this potent encounter between music, organ and performer.
En partenariat avec les Editions Hortus
Doing away with borders and, more generally, with limits seems to lie at the core of Franz Liszt's life and works. His relationships with the music of his predecessors and contemporaries, or the frequent bridges between his work and literature, inform a decidedly all-encompassing perception of this precocious European. So it is with the four major pieces brought together in this volume which – particularly through the recurrent use of borrowed thematic material (Bach, Allegri, Mozart, Meyerbeer) – give a foretaste of his intention to fold his work into an intemporal and unified music.
Programme :
Franz-Liszt (1811-1886)

Präludium und Fuge über das Thema BACH


S. 206 (1855, 1870)

Evocation à la Chapelle Sixtine


S. 461 (1863)

Weinen, Klagen, Sorgen, Zagen


S. 673 (1863)

Fantasie und Fuge über den Choral Ad nos, ad salutarem undam


S. 259 (1850)
<<< Back to the shop